Parish News
Event Form
Please fill out the newly created Proposed Event Form for any events that you may be planning to hold at the Annunciation Church, Nicholson Hall or St. Basil's Hall. The completed form should be given to Jen Cooper for review by the council and finance committee when reimbursement is necessary. This will allow us to improve our yearly financial record keeping.
NEW 2018 Greek Food Festival Raffle!
Raffle ticket sales have begun for this year's Greek Food Festival! You can purchase your chance to win one of our three great prizes today for only $5/ticket or $20/5 tickets. Please contact Stacey Kevorkian at staceykevorkian@gmail.com or 617-875-5770.
1st Prize

=

Win 50% of the total sales of raffle tickets

. (Also known as a 50/50 Raffle, for example: if we sell $5,000 worth of tickets, first prize is $2,500! The more we sell, the more money the church receives and the larger the firstprize gets!

2nd Prize

=

Win A

Lottery Ticket Tree

decorated with scratch tickets. (Lots of potential for a Jackpot win!)

3rd Prize = Win A Food Voucher for 2 Gyros and Beverages at our Yankee Homecoming Food Cart (Redeemable any time during Yankee Homecoming week)
Tickets will also be mailed.
Click on the image below to see pictures from the June 10th Graduation celebration and Pot-Luck Picnic held in the beautiful courtyard of the Annunciation Church.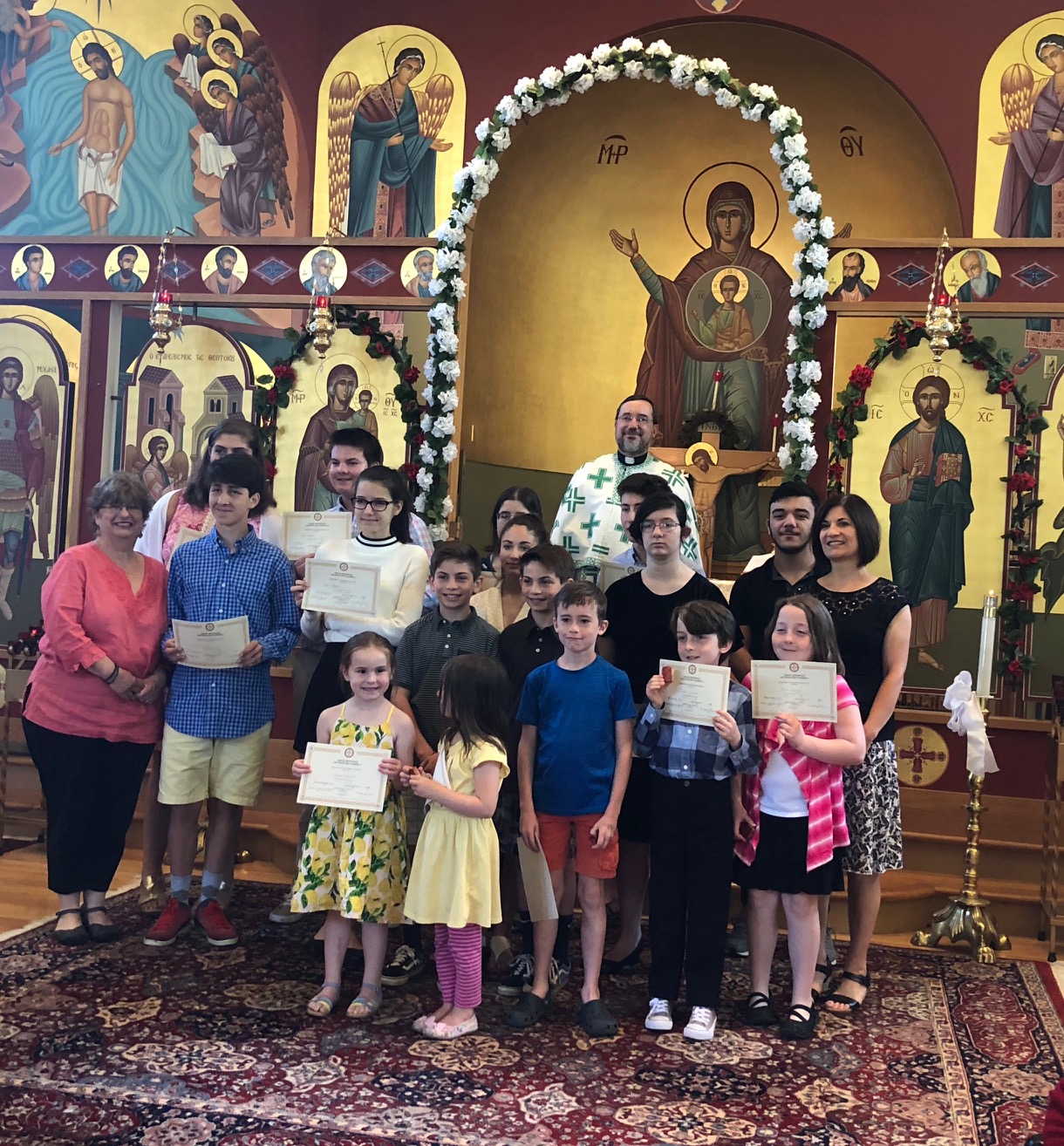 Greek Food Festival Volunteers Welcome
With Our Biggest Community Event of the year fast appoaching, we need many volunteers to make it a success. PLEASE take a look at our Schedule of Food Preparation Workshops over the next several weeks and sign up to volunteer for this important event! There is a place for everyone, even the youngest of our church community. If you have any questions or other areas not listed where you would like to help, feel free to contact any member of the Parish Council. Volunteer Here
Mark Your Calendars...Eikona Coming in September!
Eikona (ee-kona) is a three sister ensemble Presvytera Stacey Dorrance, Presvytera Marika Brown and Chrysanthy Therianos who chant and sing hymns and contemporary Christian music with roots in the Greek Orthodox church. Their beautiful voices and harmonies preserve, share and promote centuries worth of rich musical tradition around the world, reaching the new generation of Orthodox and Christian music fans. See Flyer Here.
9/21 - Paraklisis Sevice @ 7pm
9/22 - Saturday Concert @ 7pm
9/23 - Joining Orthros & Choir during Divine Liturgy
Tickets for the Saturday evening concert may be purchased online prior to the event for $25 or at the door for $30 each.
Save the Date
July 27, 28, 29 - Greek Food Festival
Mark your calendars for this annual event on 7 Harris Street, Newburyport as we open our doors to the community to share food, music and Greek culture. We are adding more food, more music, dancing and more FUN to celebrate this milestone year.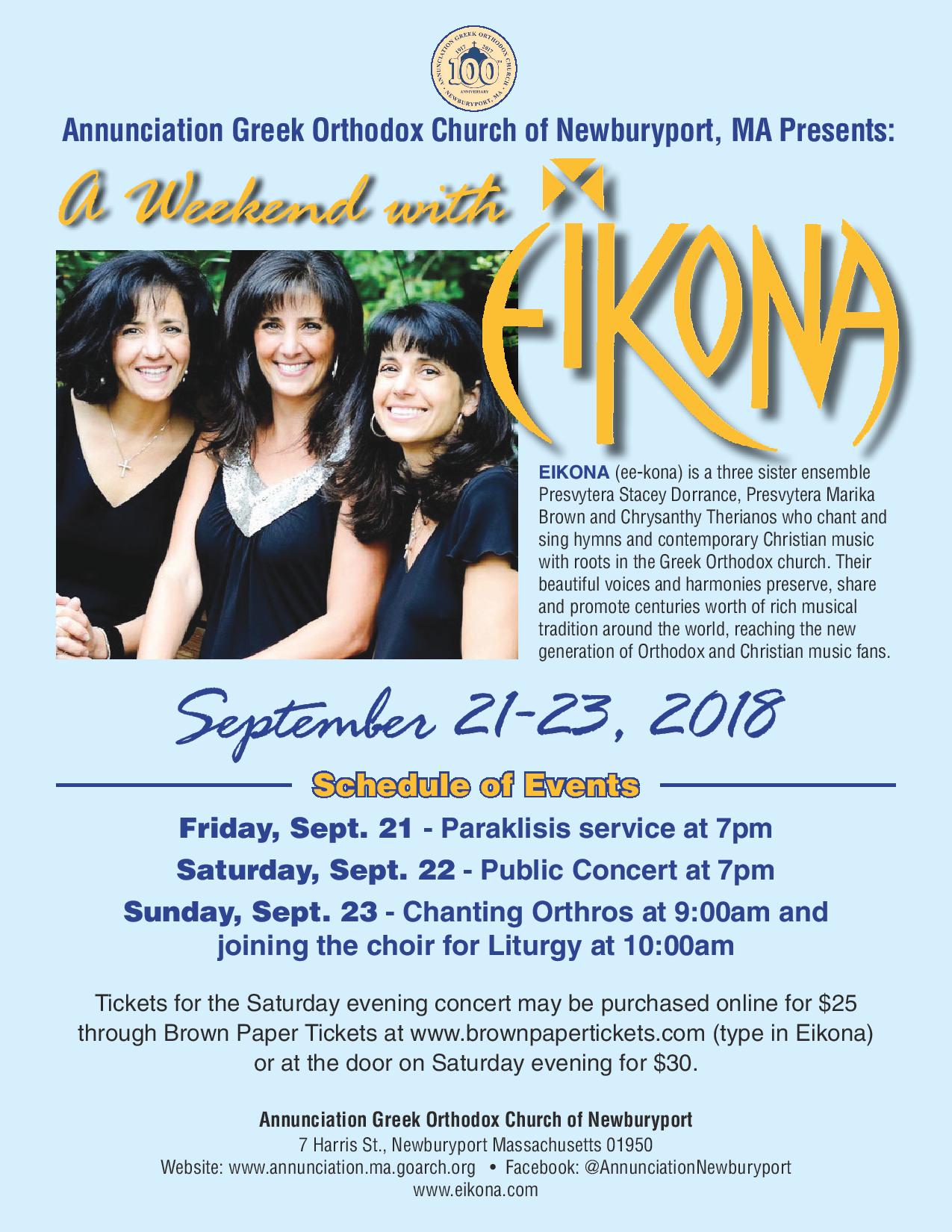 Parish Resources

Weekly Sunday Bulletin View the parish weekly news bulletin online, includes news and events.

Monthly Bulletin - The Beacon
Shining Forth the Good News!

Orthodox Marketplace - The official online store of the Greek Orthodox Archdiocese of America.
Send an Iconogram Send a message to a loved one or a friend in celebration of a name day, feast day, or sacrament.

Annunciation Online "Like" our Facebook page so that you may be kept up on services, events and activities.

Online Chapel