Parish News
Elections for 2018 Parish Council
Please be advised that elections for the 2018 Parish Council of Annunciation Church will take place on Sunday, December 17, 2017 immediately following the Divine Liturgy and ending promptly at 2:00 PM.Only Orthodox Christian Members in good standing are permitted to vote.
As a reminder to our parishioners, these are the criteria set forth by the Archdiocese on the requirements to be eligible to vote and a member in good standing of the Greek Orthodox Church of the Annunciation:
Must be eighteen years of age or older

Must be baptized and chrismated according to the rites of the Orthodox Church

Must participate regularly in the holy sacraments

Must have paid their prior year (2016) stewardship in full and filled out a current year (2017) stewardship card

Must be current in his or her stewardship

Absentee ballots will be available at the Church Narthex by request on Sunday, December 10th, or mailed by calling Election Committee Member, Stacey Kevorkian at 617-875-5770. In order for your vote to be valid, your sealed absentee ballot must be mailed to Annunciation Greek Orthodox Church, 7 Harris Street, Newburyport, MA 01950 and received by 1:00 PM Saturday, December 16th, at the very latest. Should you have any questions regarding the election procedure, please contact Stacey Kevorkian at 617-875-5770.
2017 Stewardship Fulfillment Needed
As we enter this holy season, the Stewardship Committee asks those who have yet to fulfill their 2017 pledge to please remember the financial obligations of our church. Unfortunately, we are far from reaching out 2017 Stewardship goal, and our beloved church needs your help. We gratefully acknowledge those who have already fulfilled their pledge for 2017.
Thank You! - Haitian Relief Effort
On Sunday, November 26th we collected $149 to answer a need for toiletry supplies in Haiti. With your generous contributions we were able to purchase the requested soap and toothpaste while having additional money to make a donation to the IOCC for relief efforts in the Carribean Islands.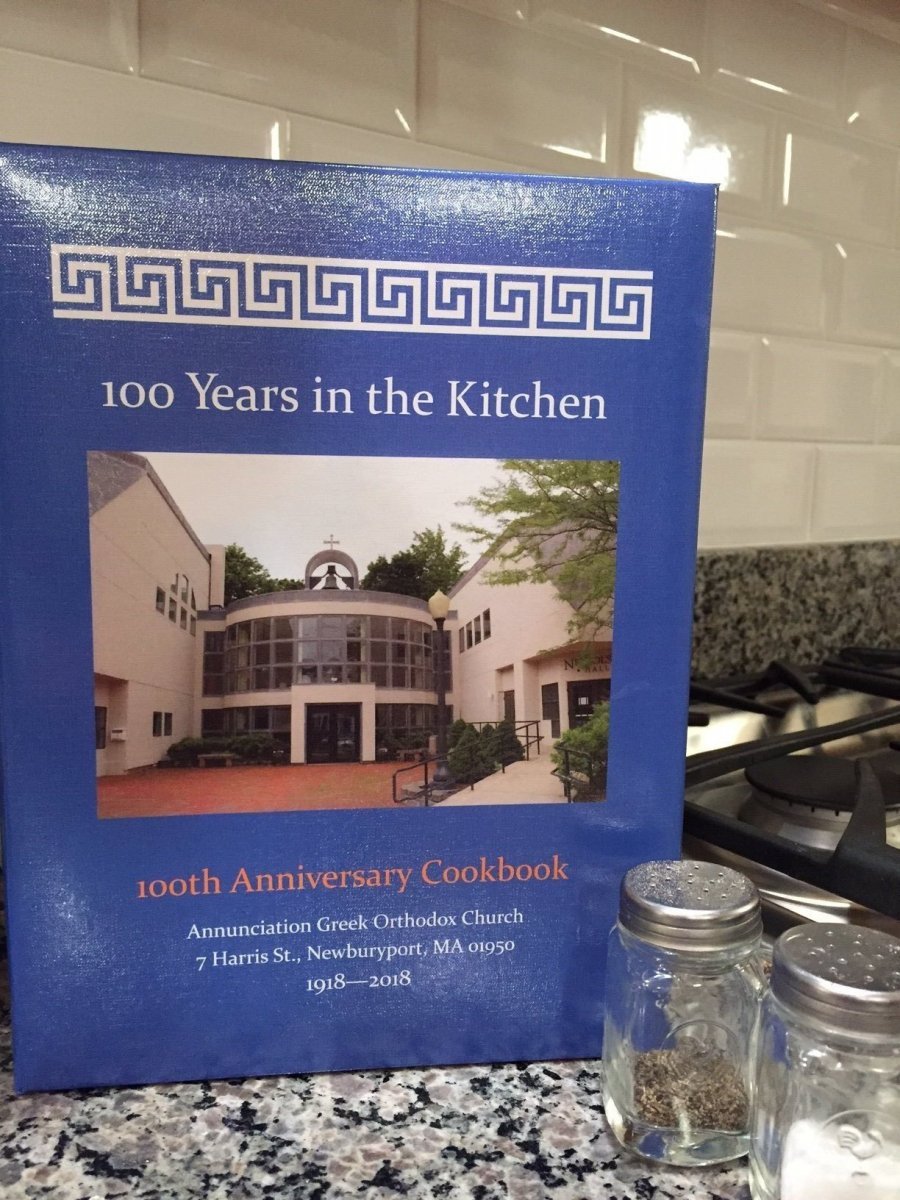 "100 Years in the Kitchen" Cookbook - The Perfect Christmas Gift!!
Our parish members have shared their Greek recipes passed down through generations and more in this rare cookbook compiled for our 100th anniversary celebration. The cookbook is available now for $20 and can be purchased at The Annunciation Church Candle Stand in the Narthex, the Daniel Lynch Pharmacy, Tina's European Fashions and Dance Place of Newburyport or by contacting Andrea Jones at andreajones1@comcast.net. Surprise your loved ones with this special gift!!
100th Anniversary Update
We soon begin to celebrate 100 years of Greek Orthodoxy in Newburyport! The parish council decided to recognize the date of December 18, 2018 as the anniversary of our Church and will kick off our Year of Celebration starting in December of 2017. We are planning monthly activities beginning with a "Founders Day" celebration and brunch on December 10, 2017. Please reach out to our 100th Anniversary co-chairs of Andrea Jones and Charlie Neos. Each monthly event has many tasks to fill and could use your help. Please come to one of the regularly scheduled meetings listed on the calendar Tuesdays@6:30PM or Sundays@11:45AM and offer your time, talent and energy.
Request for Pictures and Any Documents Related to our Parish
We are looking for your old pictures and documents of activities from events that were held at our church over the past 100 years! This can include photographs, as well as programs, tickets, raffle prize tickets, flyers and newspaper clippings of events, etc. Also, please send sedding, baptismal, ordination or any other pictures of events taken in our Church. Pictures and items circa 1918-1924 please send asap sot hat we may include them in our Founders Day event. Thank you!
Clean copies may be sent electronically to Tina Papadopoulos at tpapadop@aol.com with dates and names of persons and events.
Please Note
If you have recently moved or changed your email address, please contact Stacey Kevorkian at staceykevorkian@gmail.com so that we can keep both our mailing list and the listserv for email current. Thank you!
Save the Date
December 10 - 100th Anniversary Founders Brunch
Please join us as we Kick off the 100th Anniversary Celebration of our Church on December 10, 2017 from 10am - 3pm. We will honor the founding families starting with Divine Liturgy followed by a Memorial Service and Brunch in Nicholson Hall. Brunch Tickets are $20 for Adults and $10 for children under 12. Reserved seating with paid tickets only. No tickets at the door. Tickets can be purchased online at https://www.eventbrite.com/e/founders-day-celebration-annunciation-church-newburyport-tickets-39349265713, or by contacting Tina Papadopoulos at (617) 828-7543, Maria Andriotakis-Conor at (978) 270-9121, or Melinda Patrick at (617) 543-0824.
December 13 - Fresh Greenery Holiday Centerpieces
Join GLAS with florist Debbie Sousane at 6PM in Nicholson Hall. We are making long and low Centerpieces with fresh greens, candles and bows. Cost is $25 with all materials provided. If interested please RSVP to Irene Falite at Ireneff02@yahoo.com.
December 17 - 2018 Parish Council Elections
Please be advised that elections for the 2018 Parish Council of Annunciation Church will take place on Sunday, December 17, 2017 immediately following the Divine Liturgy and ending promptly at 2:00 PM.Only Orthodox Christian Members in good standing are permitted to vote.
December 24 - Children's Christmas Pageant
Join us for this annual festive event following Divine Liturgy, as the youth in our parish reinact the story of Christmas with readings and carols sung by all!
Parish Resources

Weekly Sunday Bulletin View the parish weekly news bulletin online, which includes news and events.

Monthly Bulletin - The Beacon
Shining Forth the Good News!

Orthodox Marketplace - The official online store of the Greek Orthodox Archdiocese of America.
Send an Iconogram Send a message to a loved one or a friend in celebration of a name day, feast day, or sacrament.
Annunciation Online "Like" our Facebook page so that you may be kept up on services, events and activities.

Online Chapel